You've probably wished you could control Android phone from your PC at times. Maybe when your phone is on charging or when it's at the bottom of your bag. Or perhaps you need to type a lot of text or look at something on a bigger screen. Maybe you've wished to give some futuristic look to your working table. Fortunately, you're in the right place. Here are the two best options for you.
1. Control Your Android Phone From Windows 10 using "Your Phone"
If you're Windows user, then this is the basic way to access your phone from your computer. This works through the "Your Phone" app in Windows 10. It is a built-in app that enables you to see your 25 most recent photos, send and receive text messages, and manage calls on your PC.
Steps:
Update the "Your Phone" app in Windows, and install the "Your Phone Companion" on your android device.
Your Android device and PC must be connected to the same Wi-Fi network.
Log into your Microsoft account on both devices.
Launch the app on your phone and PC, then follow the on-screen instructions to link the two.
Bonus feature for some Samsung devices:
Microsoft is also rolling out a screen-mirroring feature, which supports only for limited number of Samsung devices.
2. Get Full Control Of Your Phone From A Computer Using "AirDroid personal"
AirDroid Personal has many fantastic features like File Transfer, Remote Control, Screen mirroring, Remote Camera, SMS, and File Management. To enjoy all the features, you should install different applications or software of AirDroid Personal on your devices.
Step 1: Download
Step 2: Sign up an AirDroid Personal Account
With an AirDroid Personal account, you can enjoy all the features under the local and remote connection. Otherwise, you can only use Lite Mode under the local connection.
Step 3: Add a Device
You can add iOS or Android devices to your AirDroid Personal account as you like.
For free users, you can only add 2 devices to your account.
For premium users, you can add 3 devices to your account for free, if more device quota needed, you can pay an exact fee to extend the device quota to maximum of 10 devices.
If you have more than 10 devices need to manage, you are recommended to use AirDroid Business
After doing all the steps above, you can enjoy your AirDroid Personal trip now.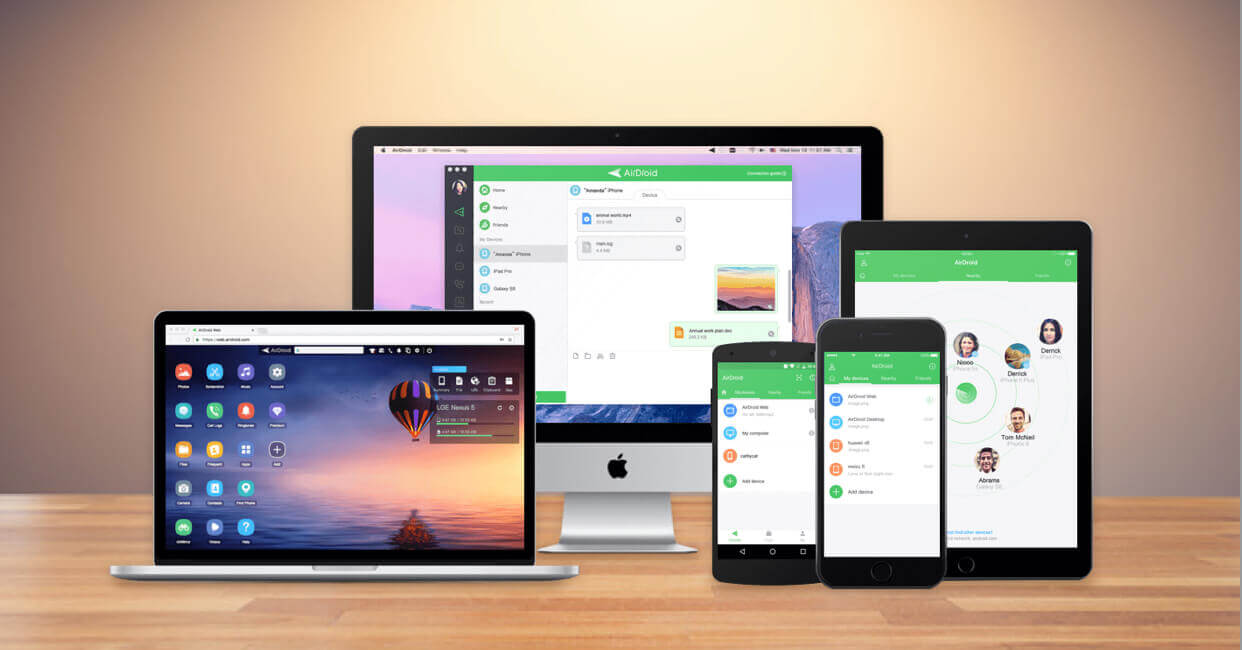 Major Features of AirDroid Personal
File transfer
Remote control(Get full access to your mobile device and control it using you computer's mouse and keyboard.)
Screen mirroring
Remote camera
Mirror your phone's notifications
Message/Contacts/Photos/Videos/Ringtones/Files/Call logs/Apps management
Find phone
Tips: You can use AirDroid Personal under local connection or remote connection. But if you use them under remote connection, it will consume the remote data quota. For free account, the maximum remote data quota is 200MB/mon. If you would like to own unlimited remote data quota, you can upgrade your account to Premium.